We're Local, Family Owned and have a 100% Satisfaction Guarantee.
There are over 48,000 spider species in the world. Many spiders spin webs to capture their prey, while others will jump or leap. Yes, spiders will bite but most species do not pose a risk to humans. They will, however, kill their prey with their venom.
You may spot cobwebs around your home, but you may not see the spider that created them. That's because they prefer to stay in dark, secluded areas such as cellars, attics, crawlspaces – anywhere they can easily retreat to and hide. If they're seeking shelter in your home, it's likely because they're seeking a food source or trying to escape extreme weather and temperatures.
"They came out and removed my wasp nest fast."
"They came out and removed my wasp nest fast. I will definitely use them again when/if the bees come back. Perfect contact less work from beginning to end!"
Signs of a Spider Problem
A few spider webs are one thing, here are the signs you have a spider infestation:
You notice a large number of spiders in your home at one time.
You spot egg sacs in the cobwebs.
You already have an insect infestation and those insects are attracting spiders as a food source.
Your home has clutter where spiders will choose for shelter and a hunting ground.
Your home has unsealed spaces around windows and doors that make it easy for spiders to enter your home.
Grass Spider
This is one of the most common spiders in the region. They create a funnel-shape web which helps them to hide. You'll see these webs in your grass. They are quick but rarely bite and their bites are not venomous.
American (Common) House Spider
The other spider most frequently found in our area is the American house spider. They do not hunt for prey, they simply wait until the prey is caught in their webs. They are shiny and brown and only about ⅜". They may bite but leave only a red itchy welt.
Daddy Long Leg Spider (Cellar Spider)
The Daddy Long Leg spider is another of the most common spiders you will encounter in our region. This is because this species is constantly reproducing. It has a unique appearance, with thin, spindly legs supporting a tiny body. They do not bite humans.
Long-legged Sac Spider
These pale yellow spiders are most active at night, when they venture out to seek their prey. You'll often find them in windowsills, in the corner spaces where your walls meet your ceilings as well as outside under siding. With their nocturnal schedule, if you wake up with a spider bite, this species was the likely culprit.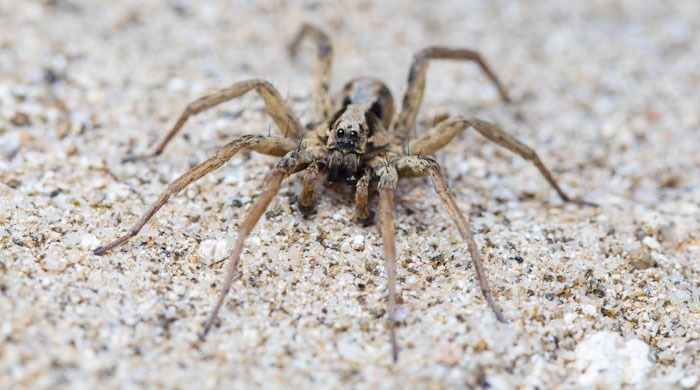 Wolf Spider
The wolf spider is not dangerous to humans but a bite from this species will be painful and result in swelling around the affected area. They average about an inch in size and are brown with gray hairs. They will actively pursue their prey instead of waiting for their food sources to get stuck in their webs. When outside, they dig tunnels or use tunnels left by other animals.
Black Widow Spider
The Black Widow spider is one of two poisonous spiders found in our region. They are shiny, black and spindly with a red-shaped triangle on the back of the female. Despite their danger, they are not aggressive. They will only bite when provoked. And even though their venom is suspected to be 15 times stronger than a rattlesnake's venom, they do not release enough of it in one bite to be fatal to humans. If you are bitten by a Black Widow spider, seek medical attention immediately as a precaution.
Spider Control The Moyer Way
Inspect
Our expert technicians will inspect your home to determine the size of the infestation.
Identify
We will identify the type – or types – of spiders and create a treatment plan.
Monitor
The plan will include visits to monitor the success of treatment and to make sure that your home is rid of spiders. We also suggest ongoing preventative treatments to avoid future infestations.
Treatment Plan
Our treatment plan may include:
Placing spider traps to pinpoint where they are entering your home.
Treat the interior and exterior of your home with spray applications.
If needed, applications of a chemical dust will be used.